Other Services
Rainwater Harvesting

Rainwater Harvesting systems provides water for flushing WC's, washing machines, gardens, washing cars and outside of the house; this in turn limits the use of the mains water which can be quite costly and high energy use.

How it Works

The system catches the rainwater before it goes into the ground or drains. The water is soft and natural and does not need any additives. As well as being cost effective it also contributes to flood prevention in local areas especially during storms and heavy rain conditions.

Benefits
Easy to install (no concrete required)
25 year warranty on the tank
If the tank runs out the pump automatically switches to the mains, so no need to fill the tank back up, which saves you money
Cuts the cost of your main water bills
Low maintenance
Can be installed above or below ground
Compliant to international standards
Wide range of tank sizes available
A domestic Rainwater System will save on average around 50% of normal water usage
Commercial Rainwater Systems saves on average 85% of normal water usage
Waste Water Treatment Tanks

Easy to install treatments tanks for single house to 50 people.
Reliable operation – no clogging
Fully trained, local service & support
Energy efficient (7 mins/4 people/day)
Sampling point included in system
Waste Water Treatment units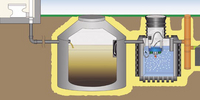 Solar North Wales provides lightweight, easy to install, compact small sewage treatments plants which have low installation depth.
Single house to 25 people
Meets all consent levels for discharge
Easy to install, small footprint
No disturbance of existing tank
Fully qualified installers
Low installation and whole life costs
Ground Source Energy
Ground source heatpumps circulate a mixture of water and antifreeze around a loop of water that is buried under the ground. The heatpumps are capable of heating water for the heating and hot water circuits of a house.
Solar North Wales works via their sister company mini muckshift to install these heatpumps.
Our Services